Are you someone who has been with Shopify for a long time, yet perhaps looking to move away from the popular platform? If so, this article is just for you!
While Shopify  is one of the most renowned and well-liked eCommerce platforms, there are certainly a number of reasons people decide to move away from it. Today we'll explore  some of the alternatives to consider if you want to do so yourself.
But before we go any further and look at the other eCommerce solutions, let's take a step back and try to understand why some Shopify users might be unhappy with the platform.
Shopify holds a significant portion of the eCommerce platform market - about 20% - and in fact, they reported
96%
revenue surge in Q3 2020, which is a staggering increase. Of course, the unprecedented growth was quite likely linked to the Covid-19 situation and the redirection of traditional retail toward the online space, but nevertheless, it's an astonishing percentage.
The platform is  also known for its  ease of use, convenience, and user-friendly interface, making it an excellent choice for any beginner e-merchant. After all, who doesn't want to skip all the hassle and just start selling straight from day one?
Yet, once the business starts to grow, many users find themselves somewhat dissatisfied with Shopify and start discovering  it's  limitations.
So why exactly do growing stores look beyond Shopify? Let's look at the most common reasons.
Table of Contents
Three of the Most Common Reasons People Migrate from Shopify
1.The High Costs of Shopify
Perhaps one of the biggest pain points is the additional costs that come with growing your business. Initially, the charges for opening a store seem pretty reasonable, especially considering web hosting is included. Their fees start at just $30, and many users are pretty comfortable with that amount. The problem comes when you begin growing and needing more options - which always come at an additional charge.
As with most free things, website templates and plugins are pretty limited in nature, and more advanced features for your store will keep adding to the bill. Sometimes even simple options like Social Login for users are paid, and stores have to keep coming up with perks for their customers, which almost always mean more expenses. There are also features like Third-party calculated shipping rates or Advance reports, which only come with higher-end plans (at $299/month). This means that the initial expense of $30/month is quite unlikely to fit an online store looking to scale up.
The Shopify App store includes several thousand apps, many of which are paid. At the time of writing, the average price of a paid app is around
$24/mo
, but there are numerous apps costsing more than $100/mo, and several which cost over $1000/mo.
Considering most users install at least 6 apps, even if we exclude the very high cost paid apps, the app bill of the typical store will come in at around $100/mo.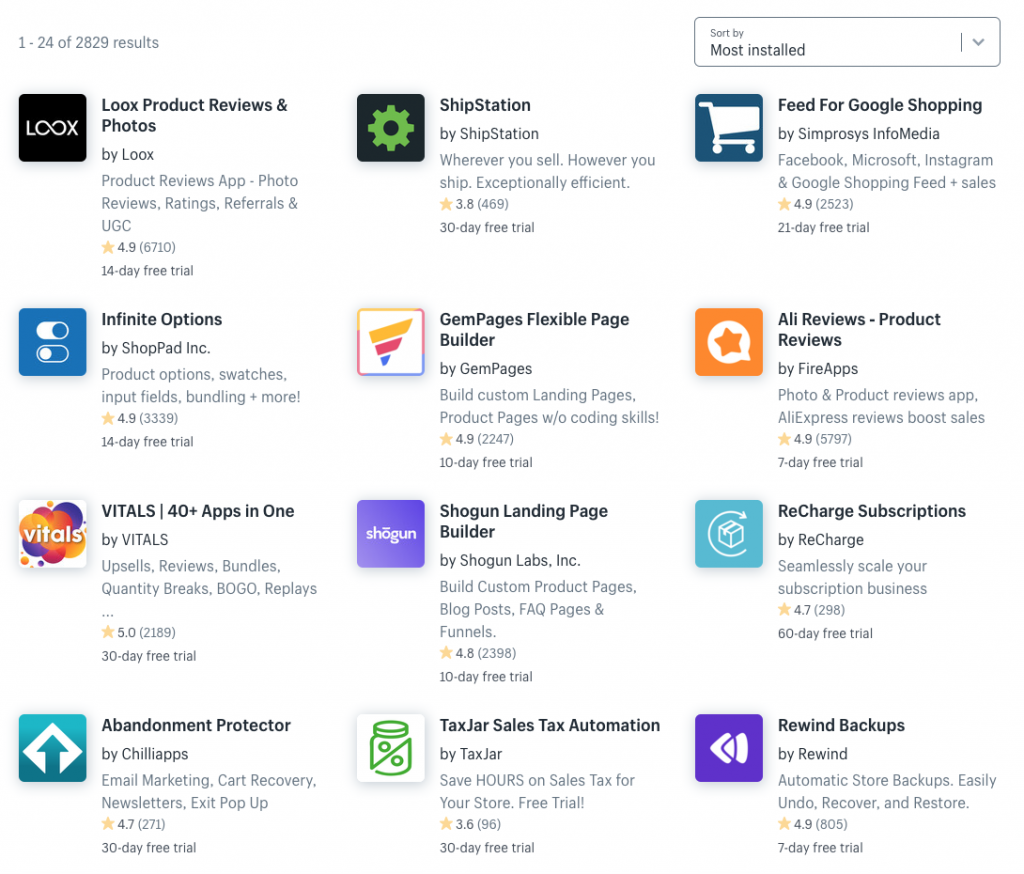 Whilst some apps are free, many are paid. A typical store may be spending around $100/mo on paid apps.
Furthermore, Shopify charges a fee for every sale you make, which means that high-volume sales will start costing you more. For small shops, this does not seem like an issue, yet for the bigger ones, those charges all add up, especially considering you will also pay  a fee for each payment method that is not a part of "Shopify Payments".
Last but not least, their Enterprise solutions for high-volume merchants, which include some of the most sought-after features like a centralized admin area to manage all of your stores, customized checkout, options to add AR, video, and 3D on product pages, etc., starts at an eye-watering $2000/month. This is a considerable amount, keeping in mind that, in the end, they are still a closed system, and you will NOT be able to do anything you'd like with your store. Which  brings us to the next point:
2. Vendor Lock-In: Shopify is a Closed-Source System
This can become a huge issue at some point if you want to keep growing. Costs aside, Shopify is still a closed system (or a closed-source), meaning that you cannot freely access their code and tweak your online shop to your liking. They indeed offer many plugins and add-ons, however, this doesn't mean that you can necessarily build anything you'd like. You will still face more limitations that you would as opposed to dealing with their open-source counterpart.
The other issue that comes up with closed-source systems is that you cannot just take your store and migrate it to another hosting provider. If you use an open-sourced platform to build your store and in time you become unhappy for some reason with your hosting, you can easily transfer your existing site to another provider of your choosing. With a closed-source system, this is not possible, as they are the only ones using that specific platform.
If the Shopify platform experiences downtime (it has) or if you're unhappy with speed (more on that below), there's not a lot you can do as you're completely locked into their ecosystem.
3. Website Speed Issues
That's a pretty big one. While Shopify advertises itself as a high-performing platform, the reality is that once you start building up your store with more and more apps, products and images, the website speed will decrease - sometimes significantly. This is particularly true for online stores with a large number of pictures, and even though Shopify supports the .webp format, often it's still not enough. In fact, there are many people with high-volume stores complaining about this issue online and not finding a great solution to this problem.
Remember, it's a closed-source system, and while you can optimize your store, you still cannot tweak it anyway you want, like you would with an open-source eCommerce platform.
As mentioned above, you also are at the mercy of their hosting, and have no ability to switch hosting provider to avail of faster server technologies.
A recent study
showed that the average server response time of a Shopify store was 741ms, with 20% of stores exceeding 1.1s. This is the waiting time before the page itself or even a single image has loaded, meaning the total page load time is substantially more.
Obviously, this can become a critical issue, with website speed being among the Top 3 priorities for any online store.
Internet e-commerce giants are obsessive about making sure that their stores load as quickly as possible. Amazon calculated that for every 100ms in page load times, revenue increased by 1%. Every millisecond counts. Not being able to control this means that as you scale up, you are putting yourself at a competitive disadvantage to those who are able to obsess over their client experience (not to mention their SEO).
Oh, and let's not forget -
you do not own your own store!
That's right, even though it's a rare occasion, Shopify stores have been banned (Google 'Shopify Bans' to read a few horror stories) which means that you can find yourself with your store deleted at any point, no matter how much time and/or money you have invested in your venture. It's unlikely that Shopify will just ban you for the kicks - you have to have broken some of their terms and conditions, but you have to read their ToS very carefully and keep your fingers crossed you don't unintentionally infringe them.
You can see why this is a big issue for many store owners - it's a pretty unsettling thought that you can lose your primary source of income and have no way of restoring it.
Just these few reasons are more than enough for many e-merchants to start looking elsewhere, and there are undoubtedly other pain points that you can bump into. But let's say that you are already looking for an all-inclusive eCommerce software to build or migrate your store, what is the right solution for you? How to find out not just what alternatives exist, but which one is the most suitable for your business, personally?
This is what we're going to find out in the next paragraphs! We made a selection of 5 of the most popular, widely-known eCommerce platforms which can serve as an alternative to Shopify. Let's dive in together and see which one could be best suited based on your own needs for functionality, features, and pricing.
Five of the Best Alternatives to Shopify and Their Pros and Cons
1. WooCommerce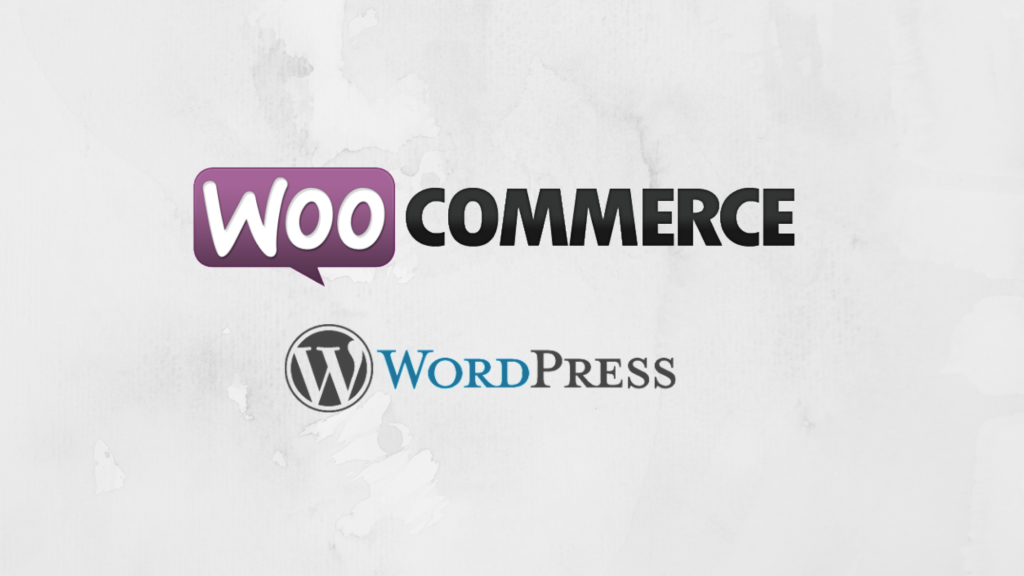 WooCommerce
is most likely the first name that you'll bump into when you look for open-source eCommerce platforms. The platform command
28.24%
global market share and is a primary choice not just for small shops (as it used to be in the beginning) and for high-volume stores.
Overview –
WooCommerce, also known as Woo, is not a stand-alone solution, but it's a plugin for WordPress, one of the world's most used content management systems. That allows you to build powerful eCommerce stores without coding hassles. One of the greatest things about WordPress (and therefore, WooCommerce) is that due to their popularity, there is a stunning amount of companies and developers who keep coming up with themes and add-ons (functionalities) for it. You can visit a marketplace, such as
Themeforest
, and find thousands of options all created to customize your WordPress/WooCommerce website. The WordPress & WooCommerce combo powers some of the largest and most feature-rich eCommerce
stores
on the internet.
Why we like it –
Let's start with the obvious - WooCommerce is open-source, i.e. you can access its code and framework and you can do pretty much anything you'd like with it (though so are the other alternatives we list below). Of course, you need to know how to do that. Still, if you're not a developer, you can rest assured that the number of agencies and developers working specifically with WordPress is overwhelming. You will easily find help when it comes to building your WooCommerce shop. This means that you can get literally any feature you'd like, which, as we mentioned earlier, is a big issue with Shopify.
If you are the DIY type, you'll be glad to know that there are almost unlimited resources directed specifically at building online stores with WordPress and WooCommerce. From free Youtube videos to paid professional courses, if you want to learn how to do it yourself, you are covered. Furthermore, even though the platform is free, WordPress is well-known to have a pretty solid (and friendly) community around it, including its own
forums
, Facebook groups,
local meetups
, etc. which aim to help each other. This means that anytime you have a problem with your WooCommerce shop, and get some help from fellow store owners and developers.
Many of the advanced features that come at an additional cost with Shopify are built into the WooCommerce platform for free or plugins for them that come as a one-time purchase.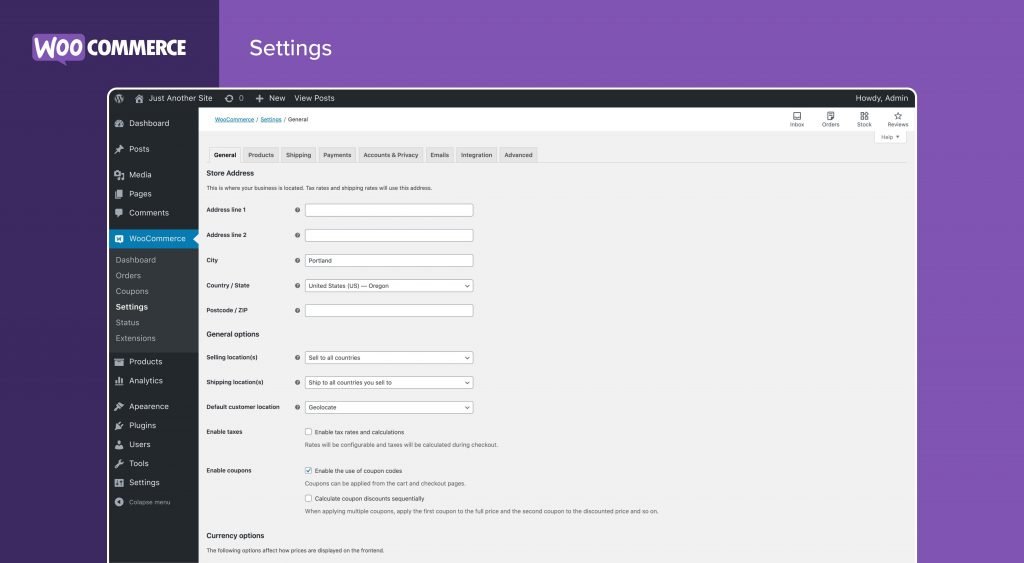 This means that unlike Shopify, if you want advanced options (say, the customized checkout) you will pay and forget instead of paying a monthly charge in order to keep having said advance feature. Even some basic features like selling a digital or a downloadable product are readily available in WooCommerce while it will require an additional app in Shopify - free or paid.
As we mentioned, if you don't hire a specialized agency but opt to build yourself,  there are a huge number of plugins for both WordPress and WooCommerce. These will help you level up your eCommerce game (usually, at a pretty reasonable price).
The lack of additional transaction fees is also a big plus, though once again, this is also true for the other platforms below as well.
Possible Cons -
WooCommerce is not a hosted platform like Shopify (again, true for all others as well) ergo you will have to buy your own hosting and manage it yourself. While many companies (like ourselves) offer a pretty
easy installation of WordPress
that may take you just a couple of minutes, it's still something that has to be kept in consideration.
WordPress is often updated, which means that you have to keep updating your store or risk running into software incompatibilities or, worse, security risks. WordPress stores are often the target of malicious attacks (due to the system's popularity), so it's imperative to make security a priority; this means updating your platform and making sure your
hosting provider offers frequent backups
and
takes security seriously
.
This leads us to another disadvantage of WordPress (and WooCommerce) - it sometimes happens that after an update, something does not work properly or has broken entirely, which is another reason to have regular backups and to consider using an experienced agency.
Pricing –
WooCommerce is completely free, and so is WordPress, the CMS that you need in order to operate a WooCommerce Store. Plugins, themes, and addons can
be free
or come at additional costs but usually, it's a relatively low one - most themes will be under $100, and most plugins - around $60-70. WooCommerce has its own add-on marketplace, where prices are similar (with some exceptions). Most of these have fixed one-time pricing, as opposed to recurring monthly subscriptions.
Verdict
– With tons of customization options and an enormous community of users, WooCommerce is a great alternative to Shopify. It's free, it's highly customizable and it's quite simple to learn and use. If you are a cost-conscious business looking for advanced features and scalability options without costing an arm and a leg, go for WooCommerce.
2. Magento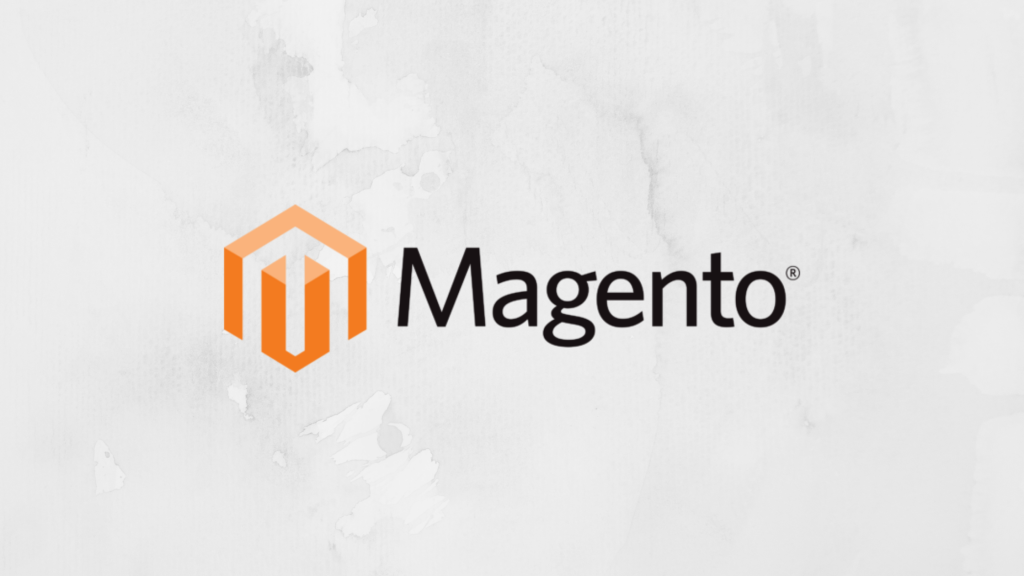 If you have done even minimal research on eCommerce platforms, the chances are that you've already bumped into
Magento
. This popular eCommerce platform was bought by eBay in 2012 and then
Adobe
in 2018. It's very similar to WooCommerce in that it's free and open-source, though it holds a significantly lower share of the market - around 4% to be exact.
Don't underestimate it, though. Magento is a powerful platform used by many small businesses as well as huge online retailers: Samsung, HP, Olympus, Nike, Oakley, Ford and Landrover to name but a few.
Overview –
Magento is an all-inclusive eCommerce platform that's available in two versions. There's the free Community version, which you can download and install for yourself on a web server of your choosing (again, like WordPress, there is usually a pretty easy option to do that with a couple of clicks). Alternatively, you can opt for the Enterprise Version, which is a paid option and the pricing varies depending on the size of the operation, though it could be pretty high for large operations.
Why we like it –
On the face of it, Magento appears similar to WooCommerce, however, it is considered way more versatile and scalable. The basic, ready-to-use option is powerful in itself, but also there are also more than 5000 extensions (
both paid and free
), making it an extremely flexible platform with the potential to become a very powerful eCommerce solution.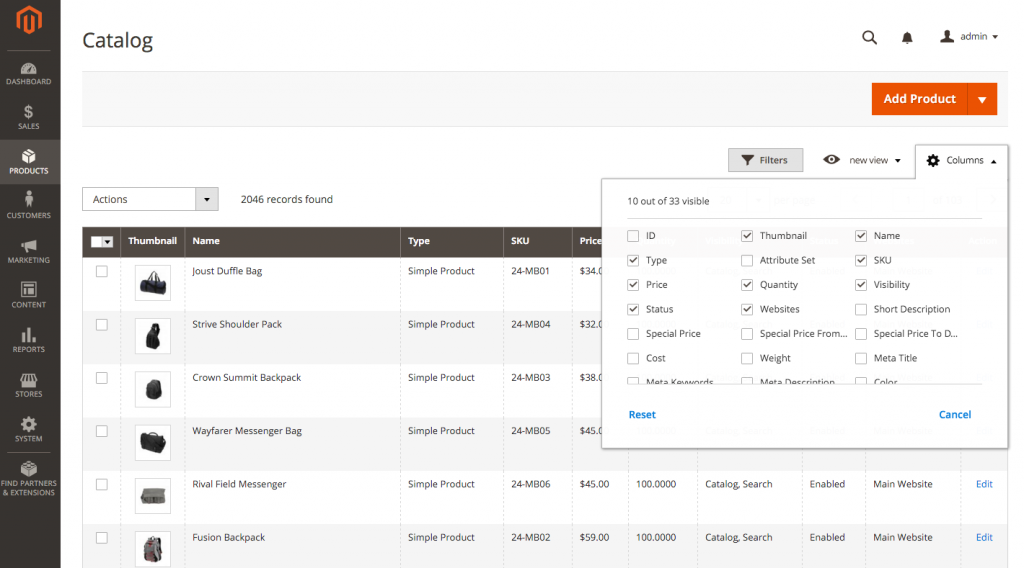 This means that when your business and sales grow, you can rest assured  that your online store will be able to accommodate your needs without much hassle. There are no fees to be paid with every sale, you may simply need to upgrade your hosting service to accommodate your visitor levels and order volumes.
Being in control of your hosting is paramount for speed, and hosting companies such as  ourselves are obsessed with delivering phenomenal performance for Magento. Typically our customers can expect a backend response time of around 100ms, which compares extremely favourably to Shopify.
Another great thing about the platform is its amazing segmentation options, which allow you to target customers based on their cart and buying history.  It has tons of built-in features like Upsells and Cross-sells, tailored promotions, personalized content, etc., which can be a critical part of boosting conversions.
In fact, it has some features which many of the other eCommerce platforms lack - for example, you can vary your price of any given product based upon the group of customers, like setting one price for regular and another for your VIPs. In other words, it's pretty marketing-friendly and will allow you to expand your marketing efforts way beyond the options you would generally find at Shopify.
Also, similarly to WordPress and WooCommerce, it has a pretty large community, which means that you can always count on them if you get stuck somewhere down the road.
Possible Cons –
Magento is definitely not the most user-friendly platform in terms of management. While its user interface is not that difficult to get used to, upgrading it, configuring it, and managing it requires a deep and thorough technical knowledge that habitual store owners often lack. This means that almost certainly you will need either a developer or an agency to build your site and take care of issues and upgrades, which also means the cost of building such a store will be considerable, even if it's a one-time thing. Moreover, the average price for themes and extensions - particularly those - is higher than what you would expect to pay for its WooCommerce counterpart, for example.
Pricing –
It's completely possible to set up a fully functional eCommerce store for free with Magento's community edition and you can even find free themes, plugins & community support. It will be unlikely though that you will manage to do so yourself, so costs for a developer/agency must be included (hard to specify though as they may greatly vary). The average cost of themes is around $100-$150, and the average cost of plugins is $200-$300.  As mentioned above, the enterprise solution can be pretty expensive, starting from $1988 and may cost as high as $24000/year - but the vast majority of stores will work perfectly on the community edition
Verdict –
Magento may be a great alternative to Shopify if you are looking for a powerful product with great scalability. You can add thousands of products and manage a massive volume of sales without breaking a sweat. What you need to consider here is whether or not you would be willing to hire a specialized agency/developer to build a store for you. If you're not prepared to do this, then Magento isn't the platform for you - the initial learning curve is steep and you are likely to run into problems without expert help. On the other hand, if you do hire someone to build your store, you'll not only be benefiting from a powerful platform, but also from the expertise of your developers and their knowledge in building a high-converting store. This is all the more important as you scale up your online business
3. OpenCart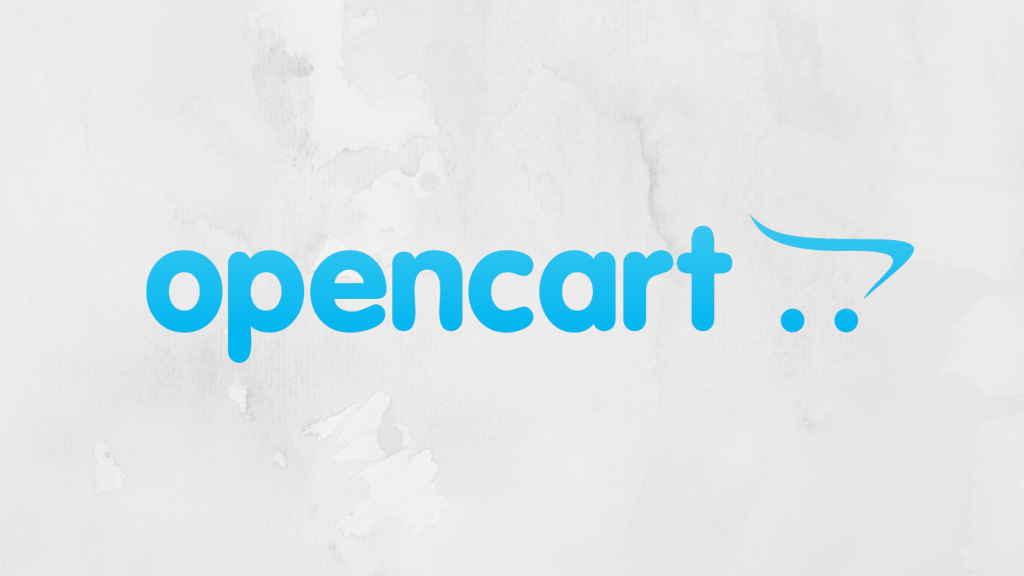 OpenCart
is another terrific open-source eCommerce platform that brings multi-store support to the table, right out of the box. This allows you to operate different stores from a single backend dashboard and customize each one of them, so it's a great choice for people who operate many shops. If you remember, in Shopify, you can't do that unless you're using the Shopify Plus edition, which starts at $2000/month.
OpenCart on the other hand, is completely free, highly customizable, and is backed by a robust and diverse community of developers.
Overview –
OpenCart is a fairly light eCommerce platform that's quite popular among small businesses. It contains all the functionality you need to set up your store and get started with your first few sales. For instance, it is compatible with 53 different payment methods right out of the box, along with 1000 payment gateway integrations. As you expand your store, you might crave more advanced features, which, as always, will require add-ons, but fear not - its
marketplace
is packed with both free and paid extensions.
Why we like it –
OpenCart is quite easy to use and it comes with a clean and simple interface. If you're eager to take a peek before committing to the platform, there's a limited demo that allows you to try out both the admin dashboard and the storefront. If you have prior web development experience or have used CMS platforms, you'll find it pretty self-explanatory.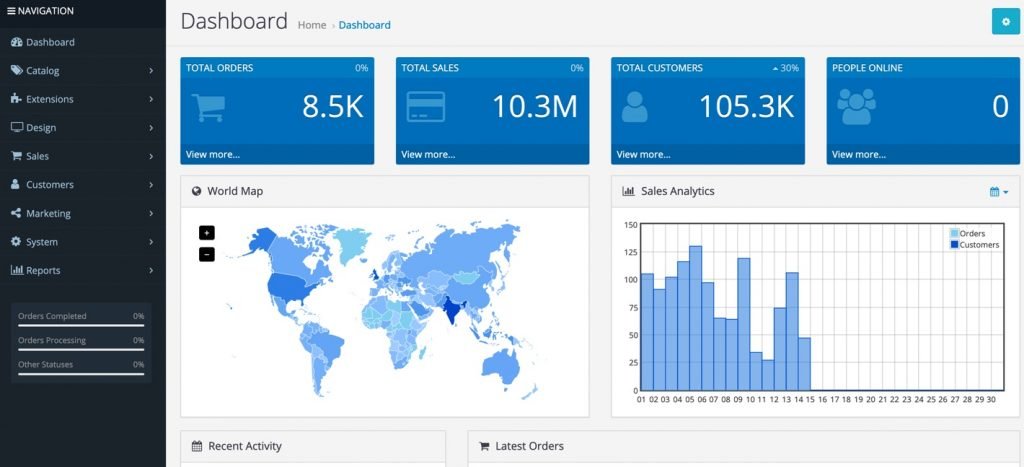 A great thing to mention even the basic version is crammed to the brim with features. Unlimited products, variants, categories, shipping calculations, product reviews, and analytics are some of them. Many of the advanced features which elsewhere are usually paid can be found for free, such as advanced product filters. There are many local payment options that are sometimes harder to find for other solutions, which is a good thing to keep in mind if you're operating international stores.
The free themes found in the marketplace are also quite nicely designed and not necessarily looking like basic themes.
Possible Cons –
Despite its rising popularity, OpenCart is a relatively small business that employs around 30-people in Hong Kong. This translates into limited customer support and unlike the previous two options, they don't have such a large community, which means free help isn't as readily available. They do offer two paid customer support plans. Dedicated support is priced at $99/month and there's a limited support plan that can be availed at a one-time fee of $99. The support times are also limited to 3 a.m. to noon Eastern Time. Neither of these plans covers theme or store customization though, so if you encounter bugs, you have to hire professional help.
Pricing –
The self-hosted version is free to download, upgrade and use for life. With all the features on offer, the chances are that you might not require a paid add-on ever. Add-ons can be pricey, though. OpenCart is currently testing a hosted service called OpenCart Cloud. But it's in Beta Stage and is quite buggy.
Verdict –
OpenCart has a great user interface and an impressive in-built feature bundle. It supports multi-stores, multi-channels & over 53 payment methods, yet it's somewhat better suited for small to medium-sized merchants. If you are an established large merchant, you might find it a little cumbersome to juggle a bunch of add-ons. Magento might be a better pick for you.
4. Prestashop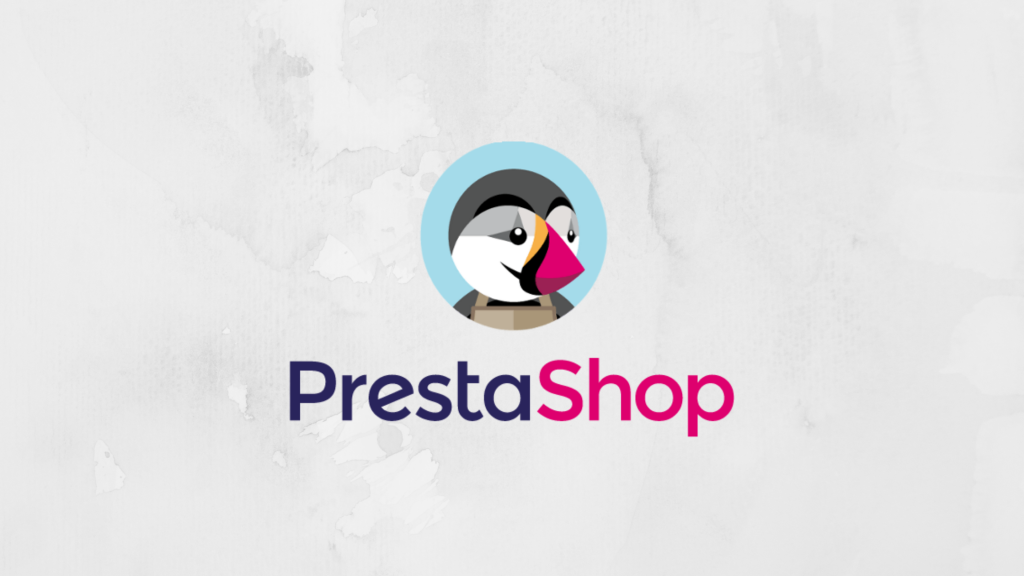 PrestaShop
is an open-source eCommerce CMS that's currently used by nearly 300,000 websites. Just like the rest of the options in this list, it is completely free to download and tinker with. It comes with an impressive bundle of built-in features, and there are hundreds of paid modules to choose from if you seek advanced functionalities.
Overview –
Prestashop is a PHP-based shopping cart that's generally considered more simplistic in terms of design than some of the other options listed here. That being subjective, we recommend that you check out the online demo that allows you to try out both the backend and the visual website builder. The software comes with over 500-features built into it, which translates into an extensive basic toolkit that will do the job for most small businesses.
Why we like it –
PrestaShop is hands down, one of the most feature-rich eCommerce platforms. It offers unlimited product listings, variants, attributes, organization, categories, subcategories, built-in support for 75 languages, promotional tools, marketing tools, statistics, multi-store support, shipping price estimation, payment options & cart abandonment notification. The dashboard is rather intuitive and allows you to build a store from the ground up if need be. There are ample
themes
, both free and paid ones to consider. Ditto with
modules
that can expand the functionality of your store to match with what Saas services such as Shopify offer.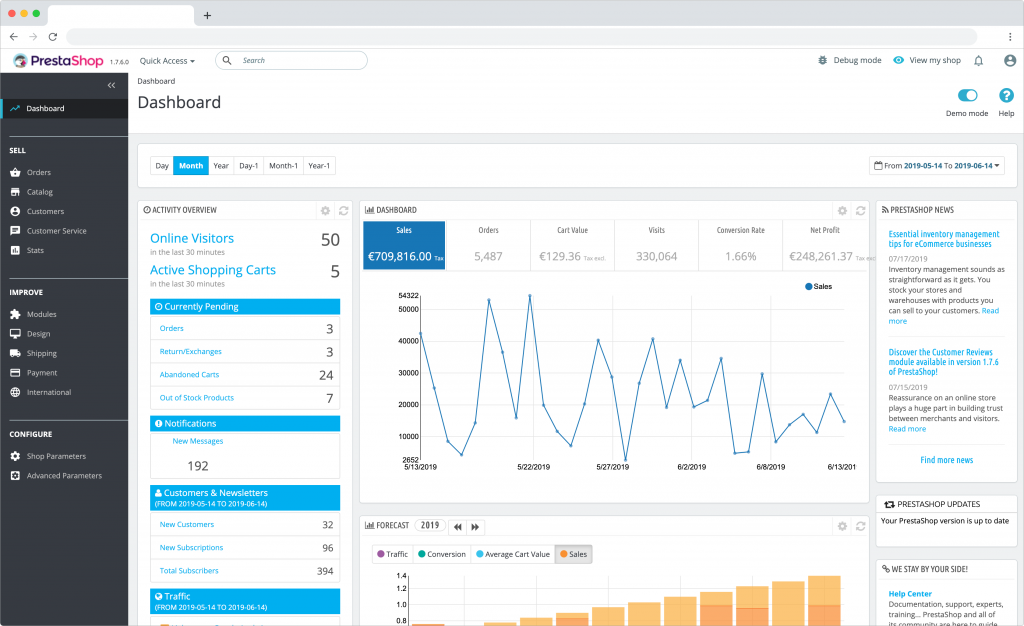 All of this comes with a sleek design, which is a rare thing, and also, the management of the backend is relatively simple as well. They have interesting options such as auto-upgrade, auto-backup, and so on, which makes it a great choice for people who hate hassle but are still looking for a flexible, feature-packed solution.
Possible Cons –
Perhaps the biggest con of the otherwise lovely platform PrestaShop is its limited scalability. Their overall structure and design is clearly oriented toward small to medium business so if you plan to grow further, this might not be a great solution for you. Free support is rather limited - you get a small open-source community or YouTube videos, of which there are not as many as you would see with Magento and WooCommerce. You can either hire a certified Prestashop developer or subscribe to one of PrestaShop's paid support plans, which adds to the cost.
Pricing –
Like the rest, technically, Prestashop it's free, but it's not really a zero-expense eCommerce platform. Just like the other open-source software, there's a limit to what can be achieved for free. Most modules and add-ons are relatively expensive, especially integrating third-party services; for instance, Amazon integration starts at $75. Salesforce at $310. Also, some free modules tend to conflict with each other, which can lead to a buggy site, thus unless you are a developer yourself, you may require paid help.
Verdict –
PrestaShop is a good, simplistic open-source platform. It offers a vast feature set, which should more than suffice for small and medium-sized stores. But if you are a non-technical beginner, you might have to navigate the steep learning curve and lack free support while setting up your first store.
5. Shopware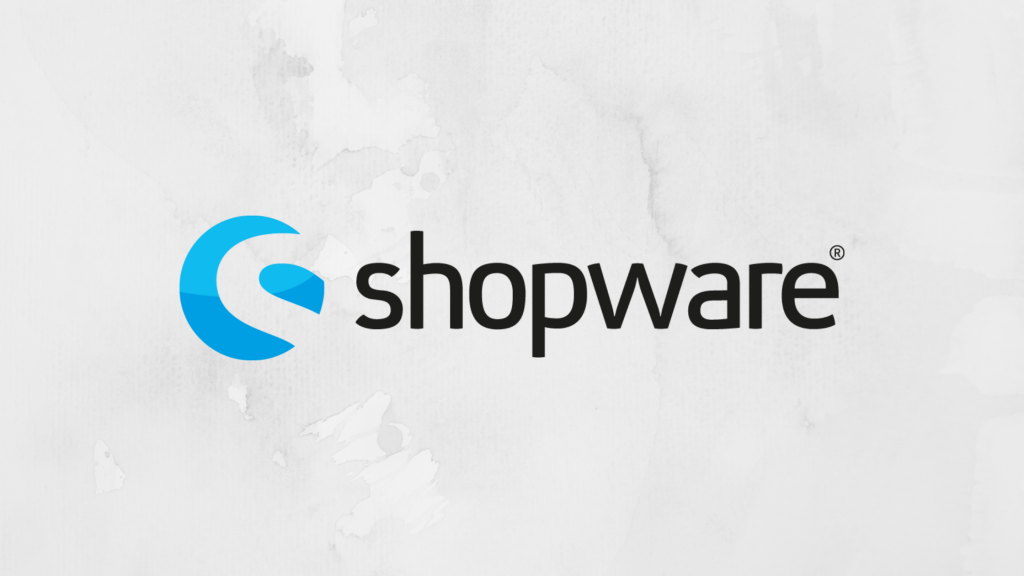 Shopware
earns the distinction of being one of the oldest eCommerce carts in the business. It was founded in 2000 in Germany and is currently one of the fastest-growing eCommerce platforms in Europe with an 8% market share. Since its inception, it has undergone 6 iterations.
Amongst a slew of other changes in the recent version, drag and drop functionality for store design and product edits are at the forefront. Also, the backend interface now offers a streamlined view of your entire operation. This makes it seem less intimidating than some of its PHP-centric siblings.
Overview –
Shopware is designed to help create personalized eCommerce stores in as little time as possible. It's flexible, rarely displays incompatibilities or bugs, has a bunch of integrated features, and allows complete customization. Right from catalog management to creating customer streams for promotions or marketing, everything is easily done.
Why we like it –
Shopware is a little different as compared to some of the eCommerce platforms. It places a fair amount of emphasis on the design. Their back-end and front-end extensions allow you a bigger freedom through the drag and drop options they offer. Their module  'Shopping World' has a drag and drop functionality which is amazing for creating product landing pages or presentations and specifically if you lack the technical skills for this. Their other module - Shopping experience - is equally useful for shop pages and category layouts.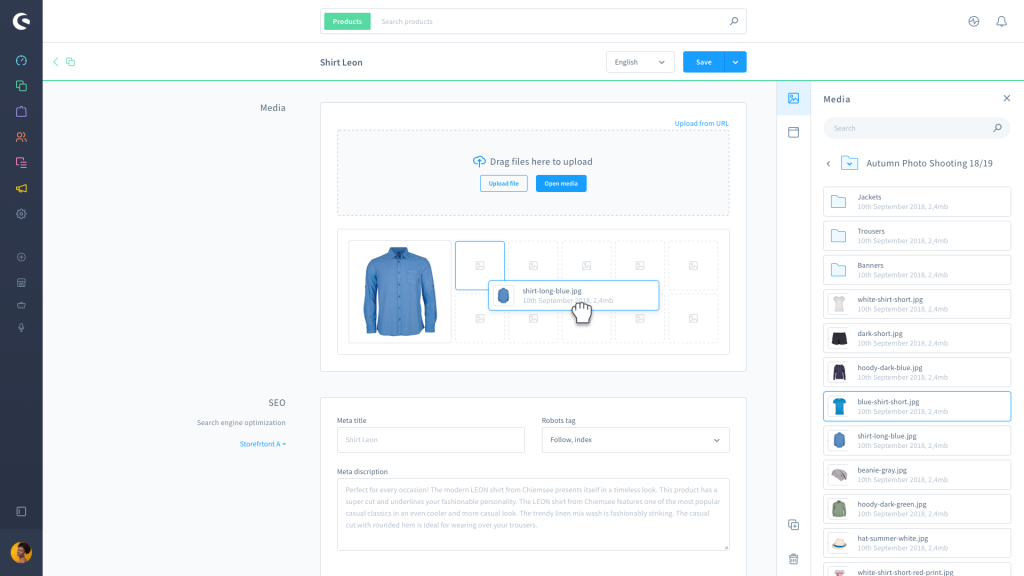 Shopware supports multi-store, offers easy catalog management (including variants, attributes, and unlimited listings), and allows you to create product streams to tailor the products according to visitor behavior.
They also offer a maintenance subscription, which sometimes can save you a lot of headaches when it comes to technical troubles - if you have an active subscription and something comes up, you won't have to search for help on the spot.
Possible Cons -
Shopware has a free version - The Starter Edition - but it offers rather limited functionalities like having just one user that can operate the site, no support, no custom products, etc. For more advanced features, which most eCommerce stores do eventually need, you'll have to sign up for one of the paid licenses. The middle plan comes at €199.00, and the enterprise edition's price is formed on request, with the latter not having the option to host anywhere else but on their servers, much like Shopify.  Also, Shopware stores are pretty design-intensive. If you are looking to self-host, you'll need a powerful web server to maintain fast page load times.
Pricing -
We just mentioned the plans you can choose from when it comes to using the platform, however, as mentioned earlier, they also offer a support subscription. The most basic - the Silver Plan - starts from €73.00/month and comes with a 12-month lock-in. The most advanced plan is a custom-priced one and comes with a 36-month lock-in.
Verdict –
Shopware might be a great option for new businesses with limited products and sales volumes. Even the community edition offers some great storefronts which are easy to design and set up. More advanced merchants may find it to be too pricey an option, compared to WooCommerce and Magento, though.
Closing thoughts
When you consider what Shopify alternative might be the best one, make a list of the things you think are most important for you. Are you looking to minimize costs? Or perhaps are willing to pay more but want someone else to take care of everything? Are you someone who participates actively in communities and therefore looking for such? Is a particular feature, like a marketing toolbox or a front-end editor vital for you?
Migration will likely be a serious commitment, so make your choice carefully. If you are still unsure what might be the best eCommerce solution for you after reading our review, make an appointment with one of our friendly consultants and get expert advice for free!