At Kualo, we've aimed to have a very straightforward pricing policy for many years. We often get asked by customers for discounts, but our policy has always been a flat no. Aside from introductory promos, everyone pays the same rates. Whether you're a charity, micro-business or startup - no custom discounts.
Fair's fair, right?
That's how we always felt, anyway.
And then this happened...
A charity customer we host experienced tremendous online growth. They needed to upgrade their web site hosting plan to handle the increased number of visitors to their site. Their costs were spiralling and
every extra penny spent was eating into their (publicly listed) budget
. Here they were - working hard to attract people to their cause and make the world a better place - and there we were with our fixed pricing policy, telling them that they had to pay more or their web site couldn't continue to operate.
We didn't feel good about it.
In business you make policies for very good reasons, and you try and stick by them. Sometimes, however, you just need to go with your gut, and ours told us that we had to do more. We were becoming increasingly uncomfortable profiting off a growing charity, who were struggling with extra costs, which could go to much better use.
Then the penny really dropped.
If an established charity was struggling to meet the costs of their growing web site, a fledgling charity with a microscopic budget might struggle with even the smallest of costs. I've always believed that business owners need to operate with morals and integrity, to be transparent, ethical and to make good judgements. That's one of the reasons
our datacenter runs on 100% renewable energy
. But we were letting charities down: our no discounts policy for charities had to change.
Our basic
hosting plans
are already great value. You can spend more in one visit to a fast food chain than you do on our basic hosting plan - so a small discount doesn't even begin to be genuinely helpful. If we really want to help the small charities, we had to think bigger. So here's what we came up with (and this might shock you...):
We decided to give charities our most popular shared hosting package 
for free, for life.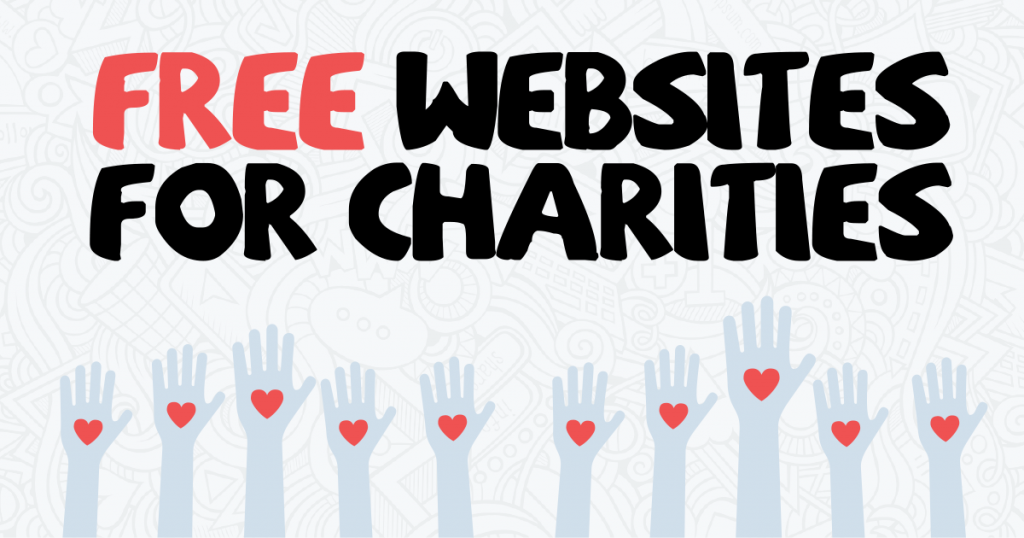 A discount is something. But free is really meaningful. Our plans fully support popular site building tools such as
WordPress
and
Joomla
, and we throw in a
free web site builder
for those who want to build their own site from scratch. For fledgling charities, a free hosting plan means they might be able to launch their first web site and start promoting their cause without any real expense, other than perhaps the small cost of a domain name. We decided to make it our mission to help as many new charities as possible take their first steps on the web, and help those existing small charities save every penny they can.
For larger charities, a basic hosting plan might not be enough to handle the thousands of simultaneous visitors they can expect during peak campaign periods. Make no mistake, really busy web sites need much more complex hosting - and all that traffic costs a lot more. For these larger charities, we're pledging to provide a lifetime discount that should ensure they make significant savings compared to what they would normally pay us, or any other host - amounting to hundreds for mid-size charities, and into thousands for larger ones.
We've already started contacting the charities we already host to let them know about our initiative. Any charities on a shared hosting plan are being gifted their plans, and we're refunding any prepayments they may have already made. For the charities already with us on more complex hosting solutions, we're discounting them by as much possible whilst also ensuring that we can continue to comfortably support their needs.
Charities do great work. We think it's time that business owners do everything possible to help them flourish. 
We want to help as many new and established charities as possible, with free or highly discounted hosting. It may not be much in the grand scheme of things, but hosting is what we're great at, what we love, and what we've got to give. And we'll give it with all our hearts, to as many charities that want it.
We encourage every one of you reading this to think about how your business could do more to help charities.
Please help us spread the word.
We'd love you to help us grow this initiative and help as many charities as possible. Please pass on the word to as many people as you can, but please note that:


They must be a registered charity with published accounting records, so we can be sure they're legitimate.
They must be non discriminatory, not promote a political or religious agenda, and they cannot be private grant-making foundations. We're sure some religious, political or private grant foundations do great work, but we wanted our focus to be on charities that serve the wider good.
The hosting account can only be used by the charity for the purposes of running the charities main web site and landing pages, their email, and not for any other 3rd party or purpose.
If you know a charity who could benefit from free hosting, please let them know, or share our
Charity Hosting
page which contains full details of the initiative.
If you are a charity looking for some great hosting,
we'd love to welcome you aboard
.
Thanks for reading!
Jo